Latest News
Beta Custom Client

2.5.2021
Server Starts In

8.2.2021
SERVER STARTED!
Hello everyone. Lets talk what we changed so far
+ Reborn max level limit have been removed from now on, you can choose your preferable level and be your own boss (this should make game a little bit longer)
+ Added new super reborn dende
+ Changed Demigra Amulet and Elite Patroler level requirement
+ Bander now will contain new items to buy which is demigra amulet and eliter patroler amulet, you wont need to craft them, you'll be able to buy them for gold, but keep in mind that amulets have charges and after certain death ammount they will disappear and you will need to buy them again (this will give more value to gold)
+ Added new quest which rewards you for reaching certain level points
50lvl - 20 Senzu Root, 1 Gold
100lvl - 20 Senzu Root, Band Of Loss
150Lvl - 20 Senzu Root, 5 Gold, Red Ribbon Helmet
200Lvl - 20 Senzu Bean, Band Of Loss, Health scroll
250Lvl - 20 Senzu Bean, 10 Gold, Bergamo Armor
300Lvl - 20 Senzu Bean, Band Of Loss, Exp 20% Scroll
350Lvl - 20 Senzu Bean, 5 Red Senzu, 20 Gold
400Lvl - 20 Senzu Bean, Band Of Loss, Black Goku Legs
450Lvl - 20 Senzu Bean, 30 Gold, Mana scroll
500Lvl - 20 Senzu Bean, Exp Boost, Event Loss Box, Band OfLoss
600Lvl - 20 Senzu Bean, Loot boost Box, Band OfLoss
700Lvl - 20 Senzu Bean, Band Of Loss, 3k Hp and mana
800Lvl - 20 Senzu Bean, Band Of Loss, 3k Hp and mana
+ Added task npc which is located on top of the building north of the temple
+ Added new rank which is "Grand Priest" once you finish hercule mission rank "God Of Destruction" you'll be able to do start doing Grand Priest rank missions
+ Increased selection of rewards that you can choose for event points
+ Added achievement system which will reward you for doing certain missions like: Completing all hercule missions, grand priest missions, crafting 6 items, enchanting weapon to +10, finishing 15 daily tasks, reaching certain skill levels, using senzu bean and enchanted senzu, making a wish with dragon balls, finishing saga, collecting all exploration points. Rewards are permanent.
+ Added secret chests that contains some of the items including exploration points
+ Demigra sword damage have been increased so it would be equal to gloves
Information we would like to mention, this edition we will try to limit multi clients usage, the maximum amount you can use is 2 opened clients, we cant promise we'll be able to track everything, but we will try to limit it. This change should make everyones gameplay a little bit longer which will make getting best items a little bit harder.
TOP 5 Player Rewards

26.1.2021
Congratulation TOP5 players. Also you can recieve TOP S3 player badget tag on discord, all you have to do is Message admin with login name and your player name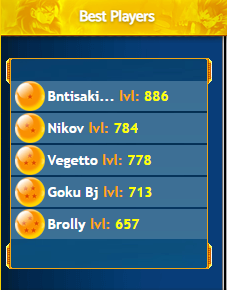 Bntisaking - 7000 Premium Points, 50 Days Premium
Nikov - 5000 Premium Points, 40 Days Premium
Vegetto - 4000 Premium Points, 30 Days Premium
Goku Bj - 3000 Premium Points, 20 Days Premium
Brolly - 2000 Premium Points, 10 Days Premium
Season 3 Is Coming

22.1.2021
Hello dear players,
First of all i would like to appology for not being so active but due to my computer issue and overall life problems i wasnt able to provide more information what im working on or provide more updates. So we would like to start new Season 2, but we arent sure about particular time, but all we can provide is that Server will be closed on Monday 01/25 and we will start implementing new updates. And of course top players will be rewarded like always.
All information will be posted on our Discord and Facebook page related about updates.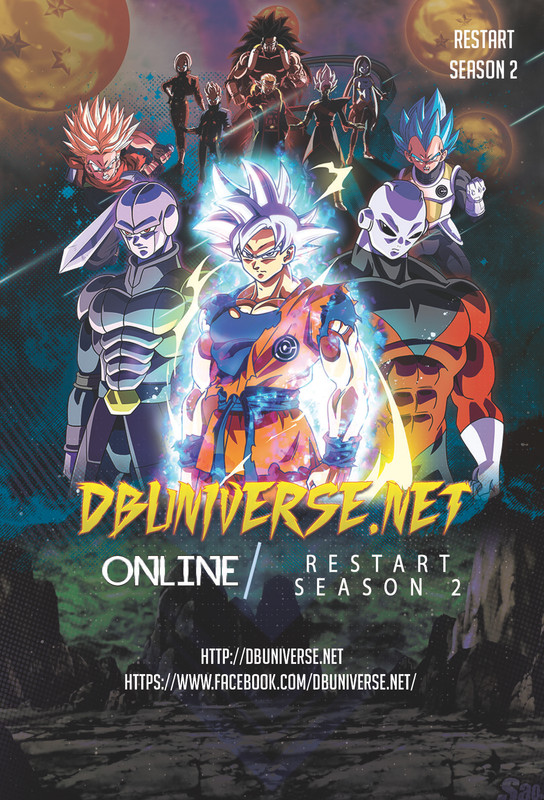 Server Status


42/200
Uptime: 3h 55m